Since the anouncement of a hosepipe ban a week or so ago, there has been a run on water butts at all the local stores. I don't think there is a one to be had for miles around. So I had a rummage through my shed. I found:
Several offcuts of wood, left over from when I extended my raised bed vegetable plot
A couple of polythene dust sheets
Several bits of drainpipe and enough connectors to link them together
An old table salt container
So I screwed all the wood together to make a wooden container, sitting on a concrete area behind the house. Lined it with the polythene (two layers), connected the bits of drainpipe together and clipped them to a handy TV aerial mast that runs down the back of the house. All I had to buy was a running outlet that I spliced into the gutters, to connect the pipe to.
No idea how effective this will be or whether the polythene will be resistant to sunlight, or durable enough to contain water for any length of time. But it's raining now, and there are already several inchs of water in the bottom.
And the salt container? Well it made a perfect connector between two disimilar diameters of pipe.
Here are some pics (clickable):
Scrap wood becomes box
Two layers of thin polythene - how long can that last?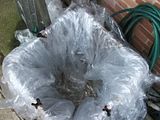 I'm leaving plenty of slack in it till it is full of water; then I'll trim it off neatly.
The only thing I had to buy was a running outlet to patch into the gutter. Cost £2.39.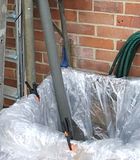 The bottom of the pipe into the butt. That's rather a narrow drainpipe, I hear you say. Yes indeed, hence the need for...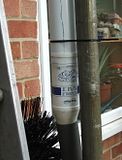 ...an empty salt container.