Walking through some woodland this afternoon, I noticed someone had been busy putting up a lot of nest boxes - there were probably twenty or so like this: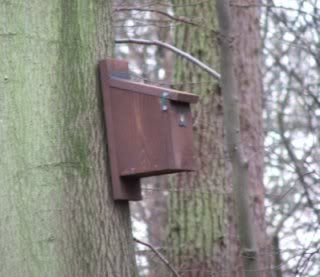 But I saw another one that has me puzzled: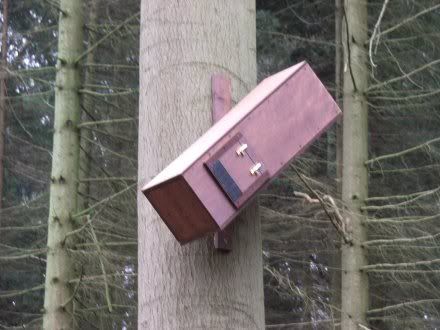 At first I though it was a) probably a squirrel trap of some sort, and b) had been knocked sideways by a fallen tree that was lying alongside.
But closer inspection, as best as I was able (it's about 4 meters off the ground), seems to show that it is meant to be at an angle like that. It's about 750mm long, with an acess hatch. There is no kind of trap mechanism inside (I could peer in through some drain holes in the bottom of it), it seems to be just a hollow, empty box. And even if it was vertical, I can't see it being a problem for a squirrel to get out of.
So, is it a nest box? What sort of bird would use that? There is no shelter over it to keep the rain out, it's quite long, and the entrance is at a pretty steep angle. Anybody got any ideas?