I finally did it!!
I made my own compost bin today.
If like me you are limited to space in your garden, here is the ideal solution to the more well known compost heap
1). Buy a bin, or even better, use an old one.
2). Turn it on it's side and drill holes all over the base
3). Drill more holes around the sides near the base
4). Now you're ready to start adding things to it. I had a lot of garden clippings so I put these in first, you need dried stuff as this acts as the drainage.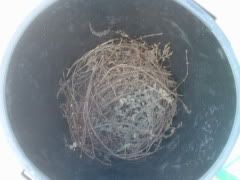 Then I added loads of Leaves, I actually ripped them up really small as this makes composting easier and quicker, but I just wanted to show you guys the size of the Leaves I have to sweep up on my path!
Impressive huh!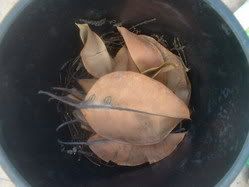 Then I covered the lot in some old soil that was left lying around in pots in the garden.
You'll need to stand your bin on some bricks ( or anything else suitable, I used an old drawer ) This will help the drainage.
Now I'm ready to start adding kitchen waste.YeeHah!
You can add anything to a compost EXCEPT:
Meat,fish and bones ( you can add these but they smell real bad and attract pests, so it's advised not to )
oil and fats
Charcoal
Dairy products ( but egg shells are fine and a very good addition, just crush them up real small as they take a while to decompose )
Cat and dog poo
You can even add tea bags, coffee grinds, cardboard and paper ;D
As you acquire kitchen or garden refuse, toss it right on top and cover with a thin layer of dried material, then a layer of soil, as if creating a lasagna.
When the bucket becomes about half full (about 3-4 weeks) turn ingredients with a spade and mix very well. Notice how the material looks, too wet - add dried material and water less, too dry - cut down on dried material increase soil and/or water. Now you will begin to mix about once per week to keep the microbiotic processes in motion.
Continue layering as before, turn very well about once per month. You'll know that the processes inside are continuing if the side of the bucket feels slightly warm to the touch. If it begins to smell, which it really shouldn't I promise, you are either adding too little dried material or too much water, adjust accordingly.
When the bucket becomes full. Set it aside to steep until the next growing season. Once a month, take a peak and mix the contents, mix well enough to bring the bottom to the top. As the weather cools to winter, you'll need to turn it less and less often.
One year after starting the bin, you will have compost worthy of using in your garden...and it was free!
HAPPY COMPOSTING!!