It was a poor growing year for all my onions 2009, not least my shallots.
I grew 3 veriety's: red sun , yellow moon & golden gormay spelt wrong?
I did 2 jars at the beginning of august to enter one in the local flower show. (which came first)
Then in october i began to peel the rest to pickle. In the past it has taken me something like six hour+ and i been up till the early hours just to get them finished.
Not having so many, they all got peeled before midnight and left to soak in brine for 24 hours after which they were rinsed and dried.
Then i tightly packed them into jars.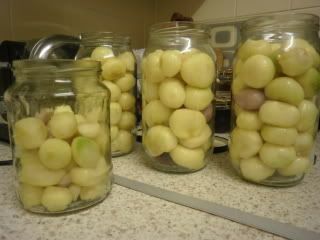 I had already spiced the vinegar which i then added.