A selfsufficientish Regular

Posts: 1351
Joined: Sun Feb 05, 2012 9:50 am
Location: Wesht Cark, RoI
Incidentally, do not image search for 'faggots wood' in mixed company
ina wrote: die dümmsten Bauern haben die dicksten Kartoffeln
---
A selfsufficientish Regular

Posts: 1351
Joined: Sun Feb 05, 2012 9:50 am
Location: Wesht Cark, RoI
ina wrote: die dümmsten Bauern haben die dicksten Kartoffeln
---
A selfsufficientish Regular

Posts: 1809
Joined: Mon Jun 08, 2009 9:29 am
Location: Gunnislake,Cornwall
Given issues of googling, what, apart from already mentioned is the point of these bundles?

I agree burning them, or even as I do putting them through a Muncher Cruncher is a waste, what things historically, and now can you do with bundled twigs that makes up for the time in cutting and tying them?
Millymollymandy wrote:Bloody smilies, always being used. I hate them and they should be banned.
No I won't use a smiley because I've decided to turn into Boboff, as he's turned all nice all of a sudden. Grumble grumble.
http://boboffs.blogspot.co.uk/
---
Not sure I agree that burning is a waste.
I did for several years just recently make small faggots out of apple prunings. Nice straight shoots that I then trimmed to about 8" long to fit the wood burner, which I tied with string.
Makes nice, cheap and efficient kindling, although I have to admit I haven't made any for 4 or 5 years.
BUT ... I have yet to prune my trees this winter, so may well do it again.
Tony

Disclaimer: I almost certainly haven't a clue what I'm talking about.
---
A selfsufficientish Regular

Posts: 1351
Joined: Sun Feb 05, 2012 9:50 am
Location: Wesht Cark, RoI
Burn Witches?
ina wrote: die dümmsten Bauern haben die dicksten Kartoffeln
---
Living the good life

Posts: 493
Joined: Mon Jul 16, 2012 5:13 pm
Location: south staffordshire
I tend to make smaller faggots like odsox and they get used in an oven. Whilist I agree with the comments about them being efficient and making use of what are in effect just waste offcuts I can also see boboff's point. I don't think they are actually cheap in a commercial sense if you were to factor in the time it takes to make them i.e. it would be nigh on impossible to make a living out of trying to sell them and they really only make sense if you are burning your own prunings.
As to other uses, I suppose a besom broom is only a faggot on a stick but again how much call is there for one?
I also would add that smaller faggots seem to me at least to be of more use than the larger ones such as the one in doofa's photo. Which also makes me ask what size does a faggot have to be to become a fascine (if that's the right spelling).
One other question , do you try to make your faggots out of a particular species or do you use almost anything? I tend towards the later and last year had some made from mulberry prunings still with leaves on. They burned with a quite distintive and not unpleasent smell.


Pete
---
A selfsufficientish Regular

Posts: 1351
Joined: Sun Feb 05, 2012 9:50 am
Location: Wesht Cark, RoI
My first faggot is goat willow from the tree's I cut for fuel

I like the idea of building a hay stack on faggots, and so might make a few for that purpose
ina wrote: die dümmsten Bauern haben die dicksten Kartoffeln
---
A selfsufficientish Regular

Posts: 1351
Joined: Sun Feb 05, 2012 9:50 am
Location: Wesht Cark, RoI
ina wrote: die dümmsten Bauern haben die dicksten Kartoffeln
---
A selfsufficientish Regular

Posts: 1351
Joined: Sun Feb 05, 2012 9:50 am
Location: Wesht Cark, RoI
This is a smaller one i made this morning
ina wrote: die dümmsten Bauern haben die dicksten Kartoffeln
---
A selfsufficientish Regular

Posts: 1351
Joined: Sun Feb 05, 2012 9:50 am
Location: Wesht Cark, RoI
Mark 3
ina wrote: die dümmsten Bauern haben die dicksten Kartoffeln
---
A selfsufficientish Regular

Posts: 1351
Joined: Sun Feb 05, 2012 9:50 am
Location: Wesht Cark, RoI
I have been giving the economics of faggotry some serious thought
i have come to the conclusion that faggoting is actually popssibly time/labour saving, depending on how the brash is to be dealt with. If the materials have to be centralised for further processing anyway, the major part of the faggoting process is complete already
Bundling and tieing may seem like a lot of work, but way more can be carried or barrowed in one go in faggots, and burning is way more efficient if whole bundles can be thrown on the fire rather than bit by bit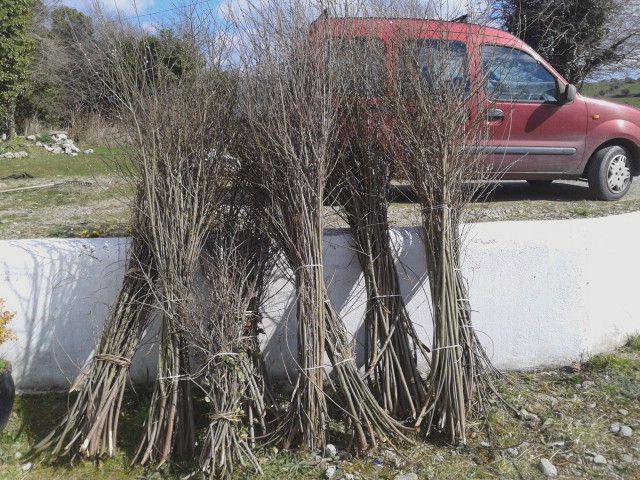 ina wrote: die dümmsten Bauern haben die dicksten Kartoffeln
---