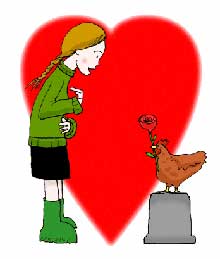 We do what we can at self sufficient 'ish' to give you ingenious money and environment saving ideas.  This is why our resident cartoonist Spencer Hill was commissioned to draw this card. Click on either of the cards for a bigger versions and wait for it to load. Now print it off and glue it the front of an old card. On the inside glue another bit of paper and hey presto you have a valentines gift to give your loved one or some one you
admire from afar. You could also cut the back off an old card recycle it and stick an new bit of card to the front. Alternatively if you want to download it, copy it and send it to someone via email then feel free just please don't use for any profit. We would love to hear if the person you sent it to likes it lets us know on our forum.
If you want to see more of the character above Self sufficient Trish then have a browse around the site as she appears on some more pages, if you want her to return then let us know.
Personalised Oils
Buy some cheap olive oil and cut a few twigs of rosemary or a similarly decorative herb.
Put the herbs in the fanciest bottles you can find along with some garlic cloves.
Top up with the oil and print off your own labels with something like 'Nothing says I love you more than garlic infused with rosemary…..'. This works with all kinds of herbs, basil, chili etc and you can do the same with pickles or jams you may have left over. Even though this is a cheap present it is highly personalised and original, I know I would be flattered to receive this.
Favour Cheque Book
Here is one I prepared earlier. Feel free to print this off and use it, but it is only really meant as an example, use your imagination and come up with some of your own.
Heart Shaped food
Exactly what it says cut the toast in the morning into a heart shape you could also try shaping my veggie burgers into heart shapes. Any food that can be manipulated really.
Plants
On a final note I will add that you don't have to have a fortune to create a thoughtful gift. Why not get some paint and paint some old plant pots with a seed of your choice growing in it. February is a good time to start off some seedlings, whats more is that your valantine can eat your gift in the coming months. So why not say it with tomatoes?