Container growers know all too well that at the end of the season, once everything is harvested, they can be left with piles of spent compost. This can be rejuvenated in an ordinary compost bin.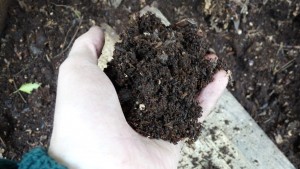 Discard any compost and plants that have exhibited the signs of any nasty soil-borne pests or diseases.
Break up any large stalks or roots left in the pot and sprinkle a layer of spent compost and plant matter overthe compost bin.
Add layers of 'greens' and 'browns'. For example kitchen waste and grass clippings (Greens) along with torn cardboard and woody material(Browns).
Repeat this layering process until the bin is full.
Leave to compost
Sieve before use.
 Growbags
Growbags may still contain sufficient nutrients to be used the following year to grow less hungry crops such as lettuce.
Signed copies of Grow your food for free …well almost by Dave Hamilton are available here (They make a great personalised Christmas Present).
---
Article written by Dave Hamilton. Dave has now left Selfsufficientish but you can catch up with him on davehamilton.me.uk or on twitter @davewildish