In the first of our series of guest bloggers Emma Cooper writer, gardener and podcaster, talks about  peat free seed sowing.

We have reached the time of year when kitchen gardeners everywhere start sowing seeds – the race seems to be on to see who can sow their tomatoes, peppers and aubergines first. Unless you're growing for the show bench you can wait a few weeks to start for most plants, as seeds sown later benefit from higher temperatures and light levels and usually catch up without running the risk of going leggy before they can be planted outside.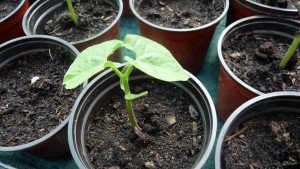 But whenever you decide to start your seeds, how you do so can have a big impact on the environment. Gardeners traditionally use large volumes of peat, extracted from peat bogs that were once valuable wildlife habitats, and releasing carbon dioxide into the atmosphere to boot.
If you are used to sowing seeds into peat pellets or peat pots then look for peat-free alternatives this year – coir pellets and pots are increasingly available and in the same price range. It may also be the time to invest in good quality, re-usable module trays that you can refill year after year. Or to practice your origami skills and turn old newspapers into little seedlings pots that are planted out whole.
Once you have your containers the next important decision is how to fill them. Seed composts have a fine texture, are sterile (no weeds or diseases) and low on nutrients – but most of them have a very high proportion of peat. There are some peat-free brands on offer, but they can be very variable, so you may have to try a few to find one that works for you. Coir is an alternative – it comes pressed into blocks that you soak and break up into a fine compost that is naturally sterile and fine for seed sowing. It's also possible to make your own seed composts from leaf mould and comfrey, although that's a project you would need to start in autumn when the leaves are falling. If you have a favourite brand of peat-free multipurpose compost then simply try sieving a portion to remove the lumps, and you'll have a perfectly acceptable seed compost.
If you are using a seed compost, whatever it is made from, then they key point to remember is that it is low on nutrients by design. Once your seedlings start to unfurl their first true leaves they're either going to need repotting into something a bit more nutritious, or supplementary liquid feeding. And if you've changed over to peat-free seed sowing this year then pay careful attention to watering, as peat-free composts take in and hold water in a different way than peat-based composts.
Peat-free seed sowing is not only possible, it's easy – I've been doing it for years. You may need to experiment a little bit to find the peat-free solution that works for you, but once you do there's no looking back and the peat can stay where it belongs – in the ground.
Emma Cooper is a garden blogger and podcaster and the author of 'The Peat-Free Diet', a  no-nonsense guide to gardening without peat.