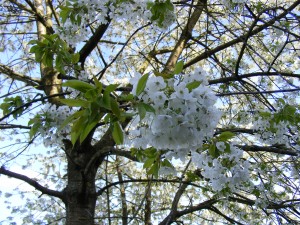 Town planners of 20th century often included cherry trees in their planting schemes as they loved the blossom. The fruit was something of an afterthought, but not for us foragers. It has meant that added to the list of usual places to hunt for cherries you should include housing estates and parks. You will more often than not find the bitter bird cherry. but on some occasions you can strike the jackpot and find some deliciously plump variety that will rival anything you can buy in the shop.
During June/July we are well into fruit season and the most opportunistic amongst us will not have to buy any fruit again until there is snow on the ground. This is a time when fruit is just starting to come into abundance. Strawberries are well into their season, as are raspberries and gooseberries. For the cherry grower and forager alike the blessing of a huge crop can become a curse if too many at once are picked and they are left to go off. Thankfully this needn't happen as there are many ways to preserve the cherry that not only keep their sweet flavour but, as with cherry brandy, cherry wine and cherry jam, actually enhance it.
Cherry Wine – A sneaky preview recipe from Booze for free
The following recipe has been taken from Booze for free by Andy Hamilton, to be published by Eden Project book 1st September 2011.
I think Jermaine Stewart must have know what he was singing about when he sang, "We can dance and party all night, and drink some cherry wine" at around 15% and very easily quaffable this wine really is one to get a party going.
Ingredients
2kg/4lbs Cherries
1kg/2lbs Sugar
245g (one small can) Red wine concentrate
Half a cup of cold tea
Juice of two lemons or 6 tablespoons of lemon juice
1 teaspoon yeast nutrient
4.5 l/1 gallon water
1 campden tablet (if using)
Burgundy Red wine yeast
Method
Put cherries into fermenting bin or bucket, cover with 3 litres/6 pints hot water and leave for 2 days.  Add campden tablet if using.
After 2 days boil the rest of the water up and add the sugar, stirring vigorously until fully dissolved.
Strain the cherries through a muslin/cheese cloth into another fermentation bin with all the other ingredients, ensuring that the yeast and nutrient is not added until the water is hand hot.
After 10 days decant into a demijohn with airlock attached.  Rack after 2 months and do not bottle until it has fully finished fermenting, which could take up to a year. Cherry wine improves with age and is best left to condition for at least another year, the results will be worthwhile!
Refrigerating cherries
As long as they're unblemished, cherries will last for quite a while in the fridge. They can last over a week in sealed containers – for a small harvest this might be all you need to do!
Freezing Cherries
Frozen cherries can last up to a year in the freezer but are probably best consumed sooner than that. The bonus with freezing anything is that the more you have in your freezer the more efficiently it works as each item radiates out cold.
To freeze cherries –
De-stone or pit them
Lay them out on a baking tray (try to have them not touching each other)
Freeze for around 8 hours
Remove from the baking tray add to a bag and then refreeze.
Cherry Jam
Jam is a very popular way to use up cherries and I've often found it is best to stick to a recipe for any jam. We often have recipes posted on our forum, here's one from one of our members living in Italy – Contandina.
Homemade Cherry Jam recipe
Here's a simple cherry jam recipe that works well. Don't worry if the jam doesn't pass the set test as it seems to solidify over night after you've bottled it.
Ingredients
3 Kg, 6 ½ lb Cherries
Juice of 3 lemons
1.5 Kg, 3 ½ lb Sugar
Method
1. Stone the cherries, and tie the stones in muslin.
2. Put them in the pan, with the cherries and lemon juice.
3. Simmer over low heat until the juices begin to run and the fruit is tender.
4. Remove the muslin bag, stir in the sugar.
5. Bring to the boil and boil rapidly until setting point is reached.
6. Remove from the heat, skim, pot, cover, and label.
Bottling Cherries
Cherries like most soft fruits can be bottled in alcohol, in sugar syrup or in a mixture of the two. I've included below is a recipe for cherry brandy, this is perhaps the simplest of all methods but all bottling methods are essentially the same.
Many old recipe books will ask you to sterilize jars in the oven, ignore this as it is the best way to end up with a kitchen floor covered in shards of glass. Instead give the jars a thorough clean either in a dishwasher or just in the sink. Then place the jars in a pan of cold water bring to the boil and boil for around 10 minutes. Add the cherries (or which ever fruit you are using) to the jars and cover with sugar syrup (sugar dissolved in water) or alcohol or a mix of the two.
Ensure the lid is on tightly and store in a cool, dry place.
Cherries in Wine
These only keep well for about a week or so – it's best as a desert not long after it's made.
Allow a small bowl of cherries per person
Place the cherries in a pan and cover with red wine (use cheap wine, there's no point wasting the good stuff) . You can add sugar at this point too but bear in mind the wine contains sugar and so do the cherries so it may not need it.
Add any or all of the following
2-3 Star anise
A Cinnamon Stick or some Cinnamon Bark
5-6 Cardamon Pods
1 Vanilla Pod
Bring the pan to the boil then allow to cool
Place in the fridge overnight or for a couple of days
Pit the cherries and serve with crème fresh, cream, ice cream or vegan ice cream.
– The wine mixture can be used as a sauce for this or other deserts. It's particularly nice on the French dessert Clafoutis aux Cerises.
Cherry Brandy
By far the easiest recipe to preserve your cherries is to make cherry brandy, cherry vodka or cherry gin. Any spirit can be used but these three seem to be the best for flavour.
Put the cherries in a jar adding a layer of sugar after each layer of cherries – ideally the jar should be sterilised in either boiling water or with home-brew sterilising solution.
Add the alcohol and put the lid tightly on.
Shake to dissolve the sugar
Put in a dark place (i.e. bottom of a cupboard) and turn it 3-4 times a week.
Consume in 4 weeks +
The longer this is left the nicer it gets, Christmas time is an ideal time to crack open a jar. The bonus with this is you get delicious and alcoholic cherries along with a lovely jar of cherry brandy.
Glace Fruits
This is another post from our forum, posted by a member called starchild and taken from http://www.recipelink.com
1 1/2 pounds prepared fruit
2/3 cup sugar
1/2 cup light corn syrup
2 cups water
1 1/4 cups sugar
2 cups sugar
1 cup sugar
First Day: Combine the 2/3 cup sugar, 1/2 cup corn syrup, 2 cups water; add fruit. Heat to 180F on a candy thermometer. Remove from heat. Cool, cover and let stand at room temperature 18-24 hours.
Second day: Carefully remove fruit from syrup with a slotted spoon. Add 1 1/4 cups sugar to syrup and bring to a boil. Remove from heat. With a large metal spoon, skim foam from surface of syrup. Add fruit to syrup and heat to 180F. Remove from heat. Cool, cover and let stand at room temperature 18-24 hours.
Third day: Repeat process of second day, but use 2 cups sugar.
Fourth day: Repeat, but use 1 cup sugar.
After final standing time, remove fruit from syrup. Place in colander and rinse with cold water. Dry on drying trays at 120F – 140F until fruit is leathery and has no pockets of moisture. Drying time will be 1/4 that of fresh fruit because so much moisture is replaced by sugar.
Article written by Dave Hamilton. Dave has now left Selfsufficientish but you can catch up with him on davehamilton.me.uk or on twitter @davewildish