For many of us, Selfsufficientish.com has been a source of information, inspiration, support and friendship, over the years. That isn't as sad as it sounds – in a world where, "Buy it, use it once and discard it," is King, those who want to grow, make or repair things can find themselves at odds with their nearest and dearest. This is particularly tricky if you live in a town or city and can't or don't want to go the whole self-sufficiency route and so fall between two regimes. That's where the –ish comes in. No one here expects total devotion to the cause.
So when Ish (as we fondly call it) looked like it might fall by the wayside a few regulars stepped in and, with the blessing of the Hamilton twins, have taken over the day-to-day running.
The Takeover Team
John Headstrong has been the Ish site geek for as long as most of us can remember. He keeps the site running, fixes any problems and is our go to person when we can't do something on site. On a more personal note he loves his old cars, lurchers, family and polytunnel – we're not sure in which order.
John is the new "boss" of Ish and is supported by team of adoring Mods (moderators).
Odsox is our longest serving Mod, the current Godfather of Ish. The King of growing tomatoes all 12 months of the year, he also is a mine of information on hydroponics, greenhouse gardening and poultry raising.
diggernotdreamer was, for a short period, the sole Mod on Ish and kept the forum going when others had difficulty gaining access. She keeps a huge menagerie of animals and birds (including alpacas) as pets, so don't ask her about eating them. She's a dab hand at growing garlic and is constantly on the lookout for scutch (couch) grass recipes.
What MKG doesn't know about wine-making isn't worth knowing. Although we're never sure he's sober, his information and help have saved a lot of us from pouring our efforts down the sink. He's pretty nifty on all things garden-related too. Oh, and he talks to frogs.
Ojay54 had to change his name (we're not sure why and we're not asking). A lifelong career in running smallholdings makes him a fount of information on everything from trees to livestock. Just don't get him started on Organics.
Zech is the youngest of the Mods (and probably the brightest too, but don't tell the others). She dabbles in many ishy things, from gardening and foraging to crafts and DIY, including building/programming a solar hot water system. And she keeps us all on our toes, grammatically.
Green Aura as the name suggests, is a bit of an old hippy with good knowledge of alternative/complementary health care and a deep love of her polytunnel and all things fermented, from cheese via sourdough to sauerkraut. She also makes her own bacon.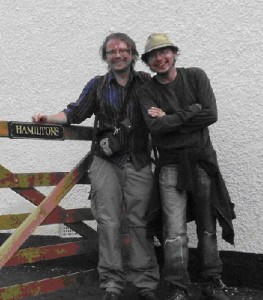 Finally, as the founders of Self-sufficientish.com we must mention the twins – Andy and Dave Hamilton. They co-authored the hugely successful Self-Sufficient-ish Bible, which launched their writing careers. Andy has since written Booze for Free and Dave's book is Grow Your Food For Free, both continuing different aspects of "Ish" values. They now have young families and continue their successful writing, teaching and careers in the media of TV and radio. Both are never too far away from Ish as they continue to garden, brew and forage. You will still be able to find information about and links to their current ventures on Ish.
The current team would like to thank them for allowing us to continue the work they started and we hope to maintain its high standards.