To get in contact with press inquiries, private foraging walks, large cash donations, inclusions in wills and any other offers of work please email us.
Welcome to our corner of the Internet, where we have been bringing you advice and information on everything Selfsufficientish and self sufficient for the last 10 years!
If this is the first time you have been here then a big Hello and a warm welcome.  You'll find packed into the pages of this website information for anyone wanting to be a little more self-sufficient…    …ish, from home-brewing and sheep rearing to wild food and natural remedies.  We like to think of ourselves a one of the leading resources for anyone who wants to explore the world urban homesteading, self-sufficiency or even just those who want to do a little to leave the stresses and strains of modern life.
From those who want to just dip their toes into the deep waters of self-sufficiency, to those who want to have a full on underwater dive we've got it all.  To find out  more of what being self-sufficientish means to us, please take a look at our philosophy.
There a lot of people tirelessly working behind the scenes at Self-sufficientish, a quick look around the forum and the main-site (where you are at the moment) and you might see signs of them.   We would like to take this opportunity to give them a big thanks, as without them we would have folded years ago.
Self-sufficientish was created by identical twins brother Dave and Andy Hamilton.
Dave Hamilton
Dave Hamilton is a freelance writer, forager, garden tutor and garden consultant. His main work is as a garden writer and in this capacity he has written for (amongst others) BBC Gardener's World Magazine, The Guardian and Grow Your Own.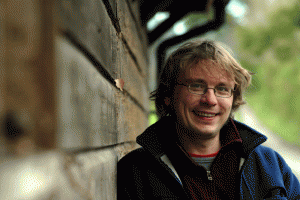 He co-authored the Self-Sufficient-ish Bible with his brother Andy and wrote the award winning book Grow Your Food For Free.
In addition to garden writing he also writes about food (including wild food and foraging, food anthropology, food plants and vegetarian food) and environmental and social issues.
The first day Dave every spoke to the national media was to John Humphrys on the Today program, followed by appearing on the BBC Breakfast couch later that morning. Since then he has foraged with Ben Fogle and Mary Berry, been interviewed by John Craven and appeared on Television and radio (including BBC1, BBC2, ITV, RTE, Radio 4, Radio 2) in the UK and around the world.
In short he loves writing and is happy to write for just about anyone who will send him a cheque in return. He also occasionally writes and performs comedy too,and performed at the Brighton fringe last year.
Foraging and Wild Food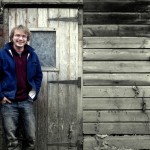 Dave also works teaching wild food and has led groups at the Eden Project, the National Trust and for the British Army on MOD land through the Wildlife Trust. He teaches wild food for corporate clients, charities and the general public.
Qualifications and Experience
After studying for a degree in Nutrition and Food Science he experimented with urban self-sufficiency and began growing food and foraging. Later working as a gardener he decided to formalise his gardening knowledge by studying sustainable horticulture. During his training he was head hunted by Schumacher College and The Botanic Gardens in Bristol to teach horticulture.
Dave is also a qualified adult educator.
Dave can be contacted by email on dave (at) selfsufficientish.com
Andy Hamilton
Andy is no longer with Self-sufficientish but as a founder member he deserves a mention.
Andy Hamilton sat down one afternoon and thought, "I love foraging, gardening, homebrewing and well… drinking".  That moment was the conception of Booze for Free; the home brew and soft drink recipe book, "book-of-the year contender" and full of "So many mouthwateringly delicious ideas and recipes"! At present Andy is helping Plume to develop an Americanized version of Booze for Free which will be on sale in Spring 2013.  Other language versions are also in the pipeline.
Booze for Free builds on the success of the highly critically acclaimed book, The Selfsufficientish Bible. A mighty tome of a book whose birth and orginal concept are a direct result of this site. It covers everything from growing fruit, herbs and vegetables, brewing your own alcohol, keeping livestock, wild food, ethical shopping, saving energy and water, making clothes and even 'green' holidays.
Andy's almost vertical garden gives him a panoramic view of Bristol down to his foraging areas and where he has been a resident since 2005. It was through his foraging walks in Bristol that BBC Autumnwatch found him, giving him the prestigious title of Autumnwatch forager. He also makes regular appearances on national and international TV and Radio, highlights include BBC Country file, RTE's Baz's culture clash, BBC Politics show, Alan Titchmarsh Show, R4 Today program, R4 Farming today, Arte's Global Mag, and R2 Simon Mayo's Drivetime.
His writing career started here, on this hugely popular website, which he co-founded (with Dave) back in 2004.
Andy currently writes for Home Farmer Magazine and has also contributed to BBC countryfile, The Ecologist, Wired, Daily Mail, Towpath talk,  and various other publications. He loves all things living and is happiest when outdoors, whatever the weather.