Biography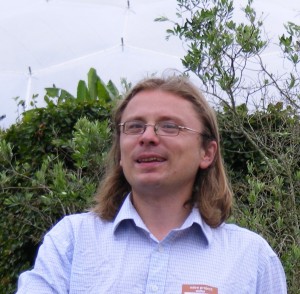 Andy was born in Northampton where he undertook a collection of "interesting" jobs the highlights including being the mash potato man in a food factory, selling double glazing door to door and the dizzy heights of operative in charge of cardboard box making for the then Burtons warehouse. He briefly moved to Nottingham and restarted his education finally receiving a psychology degree in Bath.
Andy now lives in Bristol where he runs two allotments, forages and lives a low impact lifestyle. He is the co-author of the hughley popular and critically accliamed book The Selfsufficientish Bible, Published by Hodder and Stoughton. He writes a budget gardening column for Kitchen Garden a wild food column for flavour magazine and a outdoor column for the Bristol Magazine. He also works as a freelance features writer and has had articles published for the Guardian, the Ecologist, Home Farmer and Ethical Living.  He has also appeared on BBC Autumnwatch (see below), BBC Autumnwatch Unsprung, BBC Countryfile, BBC Breakfast, BBC inside out, BBC Politics Show, BBC Points West, ITV's west tonight, RTE's Baz's Culture Clash and ARTE's Global Magazine; radio appearances include R4's the Today program, R4's Farming Today, various times on Radio Bristol and other local stations.
He takes groups of people on wild food walks sharing his knowledge of edible wild foods, plant folk lore and herbal medicine He still finds time to work on this hugely popular website selfsufficientish.com that he co-created and helped launch his career and is currently working on a new book called "Booze for Free".
Contact Andy
Andy is available for public speaking, freelance features, corporate and personal forages (wild food walks) and on a consultancy basis. To contact him please Email in the first instance – Andy at selfsufficientish dot com.