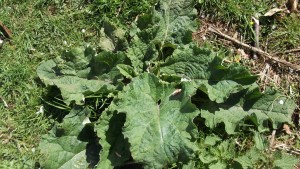 I see burdock as an old friend, it's odd but just a peak of the leaves pocking out of the undergrowth can bring a smile to my face and as I see it I say (sometimes out loud) "ah Burdock". Just as you might say, "Ah George, not seen you in a while". Told you it was odd! It is perhaps as burdock is one of those plants that can't help but have memories attached. Despite reading and even writing to the contrary burdock always seems to be at its best in July-August. That is not to say that you can't find a good burdock root somewhere or other all year round, this is perhaps why its become an old friend. Burdock's wayward nature means that even though its a biannual (grows over 2 years) it can often be found somewhere across your town/city/county/state at a very edible stage. Look out for leaves that look like elephant ears on first year plants. This basically means the basal (base) growth, before the plant grows a central stem.
Foraging for burdock and the law
It is actually illegal to forage for burdock roots in the UK. Under the countryside act of 1981 you can't dig up any plant without the landowners express permission. This is easy said then done as its not always easy to ascertain who owns what. I'm not admitting to digging up burdock root without permission, but morally speaking I'd suggest that as long as you then replanted a fully developed burr in place of the plant you uprooted. Then as long as you didn't over pick all the roots then your not doing much wrong to the environment.
Burdock (gobo) recipes
One of the easiest (or laziest) burdock recipes is as follows. Heat oven to moderate, place peeled and washed burdock root directly onto shelf. Cook for 30 mins. Eat. See told you it was easy. However, if you want to try something a little more fancy then you can par boil burdock roots until a little soft then roast for about 20 mins, treating just as you would roast potatoes. You can also add diced burdock root to casserols or slow cooked meats to add a new flavour.
Alternatively, you could try one of the recipes below.
Ale drenched Gobo or Boozy burdock
When it comes to burdock recipes the Japanese have to have the best selection, this recipe is based on a classic gobo recipe (Japanese name for burdock) but I've given it a slight British twist namely adding a good stout. Any beer will work but I found stout to have that extra richness that coats the burdock root to give it a more robust flavour. This burdock recipe is very quick and simple and goes well as a side dish with sushi or even just as a snack whilst finishing off the rest of the bottle of stout!
Ingredients
200ml Stout (or any beer)
1 medium burdock roots
1 tablespoon sesame oil
1 tablespoon sugar
Toasted Sesame seeds (optional)
Cut the burdock into thin strips, you can use a cheese knife or a mandolin for this.
Soak the burdock strips in the stout; I chose a stout for a richer flavour but you could try a pale ale if you are not a fan of the black stuff. Leave for at least an hour.
Put the ale to one side.
Heat sesame oil in a pan. Pat dry the burdock strips, then fry for two mins. Add the stout and sprinkle over the sugar. The burdock will be ready when the stout has reduced. Serve with a sprinkle of sesame seeds and a stout.
Boozy dandelion and burdock
First published for Observer Organic allotment blog.
This recipe is based on a traditional recipe, although after accidently leaving it fermenting for twice the time it needed it turn out to be very boozy. It has the potential to be around 9% vol, however, the dandelion, burdock and treacle flavours disguise this very well.
Boozy dandelion and burdock
Makes nine 500ml bottles
3 dandelion roots
3 large burdock roots
500g sugar
30ml black treacle
Juice of a lemon
1 star anise
Packet of ale yeast
4.5 litres water
Method
Dig up the roots of both plants and chop off any green top most growth. Scrub them clean then chop into bite sized chunks.
Boil in half of the water for half an hour along with the star anise then stir in the sugar, treacle and lemon juice. Strain into fermentation bin and add the rest of the water. Allow to cool to 27°c before adding the yeast by sprinkling the packet onto the liquid. Leave in a warm place for 10 days. Put a teaspoon of sugar into each of the 9 bottles and siphon the dandelion and burdock into them. Allow to condition for at least a fortnight before drinking.
Written by Andy Hamilton