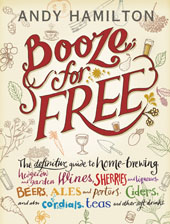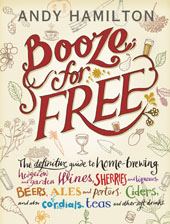 Despite the long lonely days (and sometimes nights) with just a keyboard for company, the occasionally twinge of RSI, the days of procrastination and the slow withdraw from everyday life, I love being a writer and especially a non-fiction writer. One of the main reasons is that I get to choose what to write about and therefore what I do for around about a year (which is the length of time it takes me to write a book). With Booze for Free, my latest book,  I sat down and thought to myself, "what do I want to do for the next year"? I came up with the idea that I'd like to combine some of my biggest passions foraging, gardening, trying new flavours and (perhaps most importantly) getting drunk.
The next hurdle was to convince a publisher to buy the book, so I could afford to take time to write it. This involved traipsing halfway across Bristol with a bag full of home brew and some recipes neatly stacked away in a folder in order to meet up with my potential editor.
Our meeting started off well and Susanna (my editor) asked to try a beer. The first one I opened  fizzed all over my face, hers, her table, walls and all over the neat folder containing the book outline and the recipes. Somehow this embarrassing moment was ignored as luckily the bay and rosemary ale flavour was not only great tasting but enough to convince her to go ahead with the project.  Mind you the meeting wasn't over and another downside of the boozy meeting was that after a bay and rosemary ale, some pumpkin ale, some parsnip sherry and some damson vodka I can't say I was exactly sober. This is perhaps why I boastfully insisted that the book should contain no fewer than 100 recipes!
Of course many of the recipes I'd already tried out and so that part of the book was easy to write. Over the year the other recipes emerged from careful research (hic), friends and others were born of experimentation. Once you have made a few wines, beers, cordials, champagnes it is becomes easier to work out what works. This I hope will become apparent as people use it. The idea really is that this book become a useful reference. Something that helps give the building blocks needed to get on and make your own drinks both soft and alcoholic. Mind you, there are enough recipes that even those who just want to use a book should be kept busy for some time too.
I wasn't content with just writing a recipe book and decided it also wanted it to be a valuable resource. This is why a good third of the book is full of reference material be it a very comprehensive glossary or information where locally to find home brew equipment.
The book is divided up into season and then further into fruits, nuts or plants with foraging and/or growing information for each one. This means that you can quickly find what is available and what to do with it.
Well that my latest book and it is avaible here.