Eating and drinking Japanese Knotweed
Japanese Knotweed was first introduced to our shores as a garden plant in about 1825. It doesn't form any viable seed in this country so it's rather remarkable how much it has spread. It is said that there is some growing in every 10km grid square in the UK, a sobering statistic.
Just like stinging nettles it spreads by the root (rhizomes) and a piece the size of a postage stamp is all that is needed to grow a new plant.  This means it can often be spread by vehicles with tracks (diggers etc) or by unscrupulous contractors dumping knotweed contaminated soil. It can also be seen alongside river banks. Small pieces of the root structure often fall in the water and are swept downstream and washed up in their new surroundings ready to wreak havoc.
I am in awe of this plant and what it can do as it sounds like something from a comic book. It can grow up to 20cm a day, it grows through concrete and tarmac, the roots can spread down 3 meters (9 feet) and over a 7 meters (21 feet) radius and it can withstand temperatures of below minus 35°c. It is of little wonder that this plant is so hardy when its native habitat is on the side of a volcano!
These facts mark Japanese Knotweed as the number 1 invasive plant species across our planet. It has been estimated that getting rid of Japanese Knotweed in the UK will cost £13.5 billion and getting rid of it just at the Olympic site is thought to have cost around £70 million.
Yet most of us foragers are shouting at the top of voices, "WHY DON'T YOU EAT IT"! It might seem odd but knotweed is a great food and tastes very much like rhubarb. Indeed, fellow forager and friend Fergus Drennan, the man who first introduced me to the culinary delights of knotweed, has conducted an experiment.  He gave a group of people in a pub some knotweed crumble and another group some rhubarb crumble. They were unable to tell the difference.
Foraging for Japanese Knotweed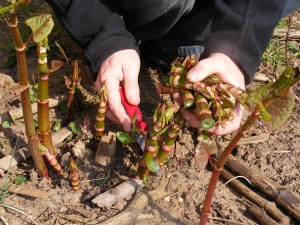 Often when mentioning wild food there are very specific conditions in which each plant grows, but knotweed, grows where it likes. I have seen it growing out of graves, through concreated front gardens and on shore line of the Firth of Forth on the outskirts of Edinburgh; it can also grow inside peoples homes up through the floor boards. But it is mostly found by railway lines, river banks, in unmanaged woodland and on wasteland. I often see it growning where earth from an infected site has been dumped.
There are a few tips to follow when foraging for knotweed. Firstly, make sure you know the area and more to the point make sure it has not been sprayed. Only harvest when it is young, which in the UK is around March-May depending on the weather and where you are in the country. The ideal size of your knotweed shoots is between 20-25cm (6 to 8 inches). If there is none around at this size then just the top 20cm can be harvested. Older plants and longer stems can be harvested too but they may have to be peeled if a little tough. Leaves should be burnt.
When preparing knotweed make sure you burn any leftover scraps as the plant has been known to reproduce for a piece the size of postage stamp hitting the floor. You can face a fine or imprisonment under the Countryside act of 1981 if you knowingly spread Knotweed so PLEASE be careful with it. I will repeat, burn any leftovers!
To correctly identify knotweed and other wild food plants please join me on one of my foraging tuition walks. I've also mentioned a little bit more in this months Home Farmer Magazine.
Eating knotweed to get rid of it
As the plant is weakened every time you cut it, it is possible at the least keep it in check by continual harvesting; and at best eradicate it. To ensure a greater chance of eradication you do have to dig out all the root and burn it on site too. Then continually harvest the new shoots all year.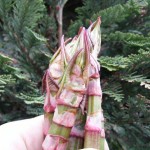 I have spoken to someone who has knotweed growing in their garden and over 5 years they managed to eradicate it buy continual cutting. If she'd have known she would have eaten it too!
To see how to cook it look below, it is certainly worth giving it a go as Knotweed is full of vitamin A and vitamin C it also contains potassium, zinc, phosphorous, manganese. Those with gout or kidney stones should be slightly wary as it does contain oxalic acid which is known to aggravate both conditions.
Drinking Japanese Knotweed
There are recipes for Knotweed wine and knotweed ale in my book, Booze for free which is out this Autumn. But you can also make knotweed tea. It is made by simmering the knotweed for 20 mins and adding sugar to taste and serving chilled. This is great as it means the leftover water from stewing knotweed can be drunk. The Japanese drink knotweed tea and over there it is known as Itadori tea.  It is high in resveratol it can really help against bad cholesterol.
Cooking Japanese Knotweed
Follow any recipe that has been made using rhubarb.  My personal favourite recipe is also one of the simplest –
Knotweed crumble
30 lengths of knotweed
1 banana
4 tablespoons orange juice
1 tsp powdered ginger
120g Butter
120g soft brown sugar
180g flour
Method 
Cut knotweed into 5 cm chunks place in an oven proof dish and pour over orange juice and add up mashed banana into the gaps. Mix the other ingredients with your fingers and sprinkle over the top. Place  in pre heated oven at 180°c and cook for 20 mins or until the crumble has turned golden.
Knotweed fool
Ingredients
2 tablespoon of sugar or half a litre of apple juice
A big handful of knot weed (12 shoots)
2 Bananas
1 cup of double cream
Method
Cook the knotweed for a few minutes in sugared water (or apple juice) until tender.  Strain and blend until proper mash up.  Throw in the bananas and blend them too. In the meantime beat the cream until it is stiff. Fold in the resulting goo. Refrigerate for about an hour and serve with a foolish countenance.