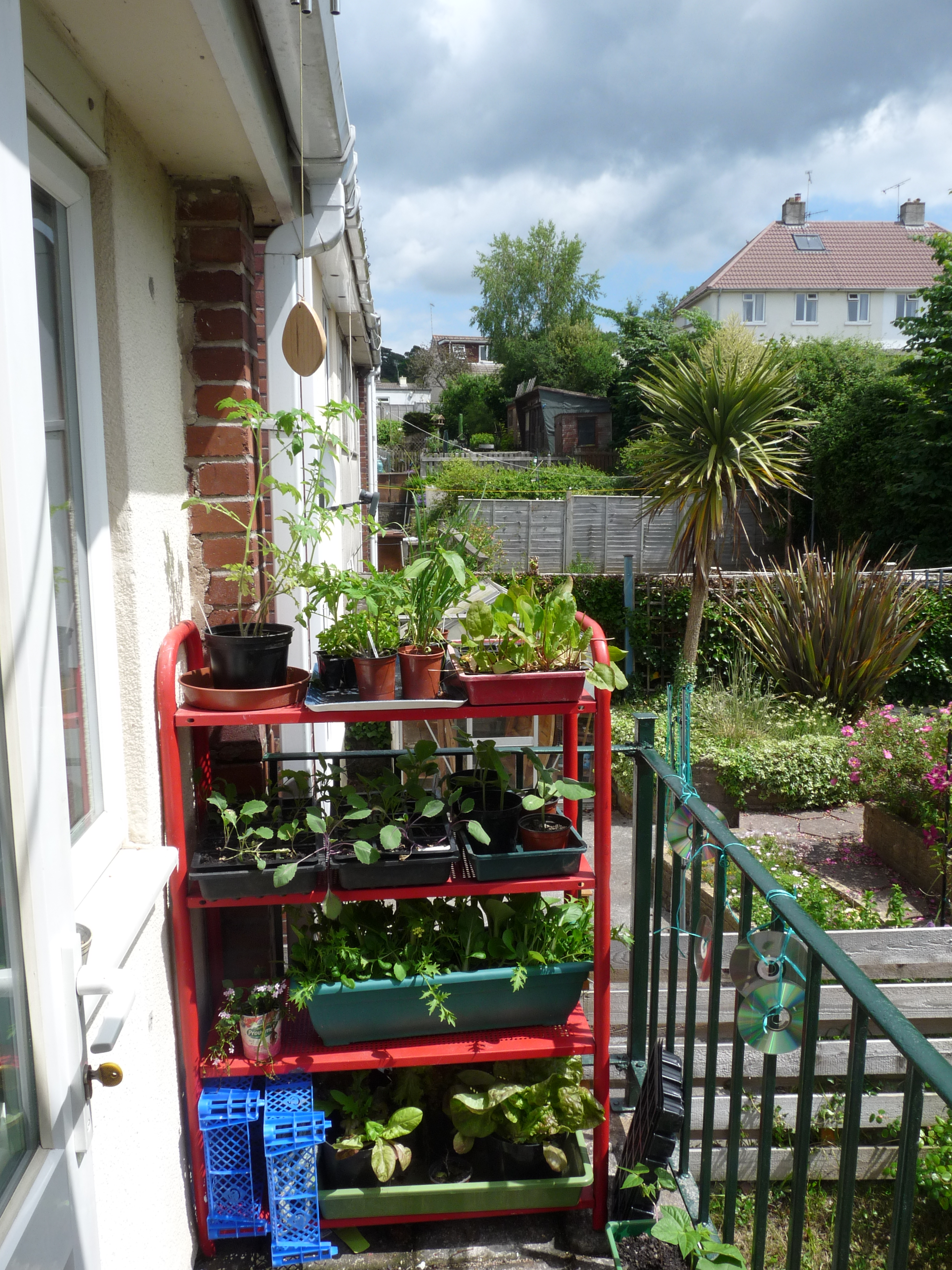 Growing in a small space tests even the greenest of fingers. Part of the problem could be the light or lack of it. Another problem with growing in a small space could be the lack of any available soil! I had this problem in a maisonette I once lived in and found the easiest way to cram a lot of plants into a small space is to grow them in pots on weather-proof garden shelves.
False Economy
Cheap(ish) plastic garden shelving can now be bought from major retailers. However, in my experience these are a false economy as they only have a limited life span – the plastic doesn't seem to hold up to extremes in temperature and in time they become brittle and start to break.  This is no doubt a ploy by the manufacturers to get us to invest in a new set when they start to deteriorate!
Small Space and small budget
For a very similar price you can buy metal shelving units or if you are a regular visitor to a recycling centre/tip/dump, like me, you may come across metal shelving units for as little as £2 ($3 US, $3.40 AUS). The shelves should allow some air circulation and water to drip down from one tray to the next. Mine contain large perforations (a number of holes punched at regular intervals) but slated shelving should also do the trick.  The shelves also need either tying in place and/or weighed down by placing heavy objects on the bottom shelf.  Clay pots full of soil are sometimes adequate or if the bottom shelf is used for storing heavy items such as bags of potting compost.
Plastic covering
Using UV stable plastic covering on your shelves is a perfect way to avoid seedling becoming etiolated (long and leggy) as they reach for the sun on a windowsill.  I've found (again) the cheaper shelving units with plastic covering to have a short life span as the zips break and they tend to shrink.  Finding scrap clear plastic from damaged poly-tunnels or again at recycling centres can be a cost effective way to cover your shelving.
As I don't currently have a plastic covering for my shelving, I use them early in the season to harden off my seedlings slowly swapping them for pot grown summer crops in the warmer months (tomatoes, summer salads, herbs) and winter salads (rocket, mini iceberg lettuces, land-cress) later in the year.
South facing?
If the shelves are south facing all the crops should get enough sunlight but it might be worth placing tall sun-loving plants on the top shelf (tomatoes, aubergines etc) and shade tolerant plants such as lettuce, parsley and salad greens lower down.  You may find that lower plants do struggle a little but you can always move them up and down in much the same way you would a Sunday roast in the oven.
Article written by Dave Hamilton. Dave has now left Selfsufficientish but you can catch up with him on davehamilton.me.uk or on twitter @davewildish